Paper Accepted at RE2015: Feature Lifecycles as They Spread, Migrate, Remain and Die in App Stores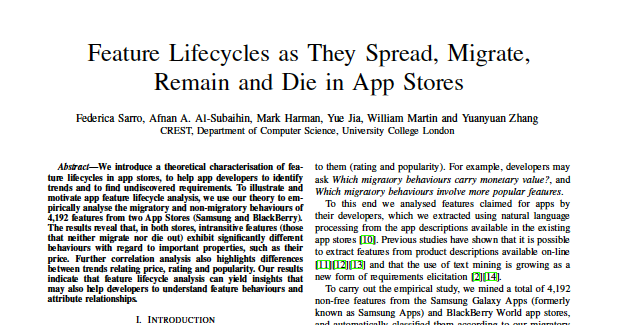 Afnan AlSubaihin | On 29, May 2015
The paper studying our recent work in identifying mobile app features behaviour in app stores has been accepted in the 23rd Requirements Engineering Conference (RE'15). This papers provides contribution in providing formal definitions of feature behaviour in app stores: they either migrate, go extinct, perform exodus, or remain intransitive. Then some interesting differences and correlations are uncovered between these feature behaviours in terms of their median price, rating and rank.
This work is an extension of UCLAppA's work in mining app store ecosystems especially with regards to app features. A version of the paper can be found here (camera ready version coming soon). You may also read the technical report containing more information  and comprehensive view of the results of our analysis.
Abstract:
We introduce a theoretical characterisation of feature lifecycles in app stores, to help app developers to identify trends and to find undiscovered requirements. To illustrate and motivate app feature lifecycle analysis, we used our theory to empirically analyse the migratory and non-migratory behaviours of 4,192 features from two App Stores (Samsung and Blackberry). The results reveal that, in both stores, intransitive features (those that neither migrate nor die out) exhibit statistically significantly different behaviours with regard to important properties, such as their price. Further correlation analysis also highlights differences between behaviours relating price, rating and popularity. Our results indicate that feature lifecycle analysis can yield insights that may also help developers to understand feature requirement behaviours and attribute relationships.